Cooperation on UNCAT ratification in Sudan
Khartoum, Sudan, 13-14 March 2018: Sudan's new Rapporteur of the Advisory Council on Human Rights, Dr. Tarig Mubarak Magzoub, discussed Sudan's interest in ratifying the UN Convention against Torture during a meeting with CTI Head of Secretariat, Dr. Alice Edwards, together with Ambassador Sayed Altayeb Ahmed, Director of Human Rights, Ministry of Foreign Affairs, Republic of Sudan on 14 March in Khartoum, Sudan. Dr Magzoub noted that the visit of the CTI was timely, as Sudan considers ratifying the Convention, and he welcomed the technical advice of the CTI Secretariat and the support of the British and Moroccan governments.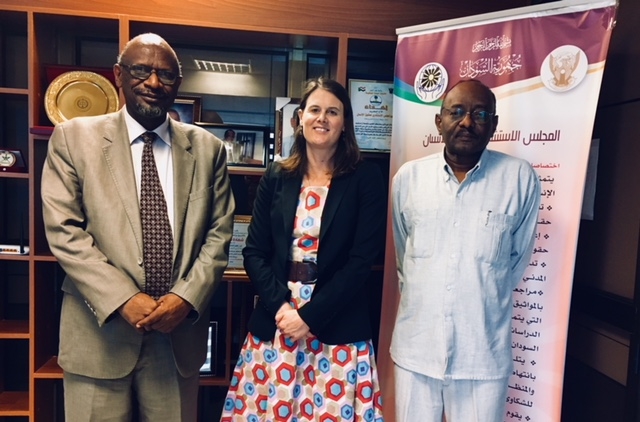 The meeting took place on the margins of a two-day CTI seminar on dialogue and cooperation towards Sudan's ratification of UNCAT, which was hosted by the Ministry of Foreign Affairs and organised in collaboration with the British Embassy in Khartoum. The seminar covered the range of obligations of States parties to UNCAT, with opportunities for participants to exchange on good practices and to learn about the technical aspects of ratification. Participants were senior level officials drawn from foreign affairs (human rights), justice, defence, intelligence, prisons, the institute for judicial and legal sciences, and the prosecution service.
"I hope the seminar will be the first of many such exchanges with the Government of Sudan, as they consider ratifying the Convention," said Dr. Edwards at the conclusion of the seminar. "There is real momentum building in Africa, with now only five countries in the region still outside the Convention framework. There are good reasons to be optimistic."
The participants at the seminar had the benefit of the knowledge and practical experience of a team of experts: Ms. Sara Bezzazi, Head of Studies at the General Directorate for National Security, Morocco; Ms. Mouna Lamzouni, Prosecutor, Presidency of the Public Prosecutor, Rabat, Morocco; Mr. Hani Abdelwahab, Member of the UN Committee against Torture; Ms. Yasmine Shams, Middle East and North Africa Programme Officer at the Association for the Prevention of Torture; and Dr. Edwards, Head of CTI Secretariat.