CTI's 2018 Annual Report: 3 States closer to reaching universality
The CTI is pleased to announce the release of its 2018 Annual Report. 2018 was an important year for the CTI, since it marked the 70th anniversary of the adoption of the Universal Declaration of Human Rights (UDHR), in which international consensus on condemning acts of torture and ill-treatment was first achieved worldwide. CTI's Annual Forum, held in November 2018, also commemorated this milestone and explored progress achieved in preventing torture and ill-treatment.​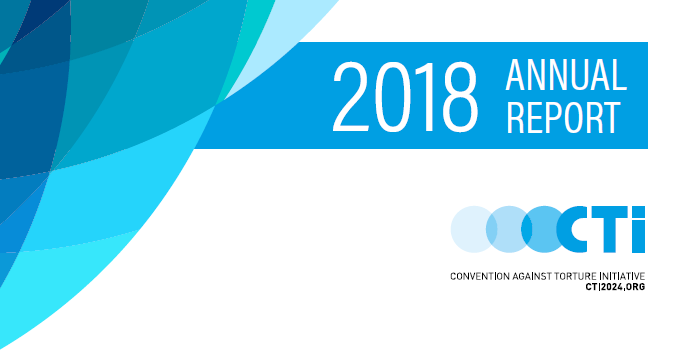 The report highlights the CTI's progress in coming closer to achieving universal ratification and improved implementation of the UN Convention against Torture and Other Cruel, Inhuman or Degrading Treatment or Punishment (UNCAT). In the words of the CTI core State Ambassadors, "progress on CTI's goals is possible and is happening". Some of the CTI's most significant activities and accomplishments throughout 2018 are highlighted in the report, in particular:​​
· 3 new UNCAT ratifications: Marshall Islands, the Commonwealth of the Bahamas and The Gambia.
·        The adoption of CTI's new 2018-2020 Strategy to support States to ratify and implement UNCAT, which is also available in Arabic, Spanish and French.
· More than 80 States attended CTI's regional events worldwide, including participants from Francophone African countries, Latin America and the Caribbean and member States of the Council of Europe and the OSCE.
· A major regional event for Caribbean countries was held in Castries, Saint Lucia.
· 2 sub-regional events for member States of the Council of Europe and the OSCE were held in Copenhagen and in Vienna.
· 2 technical seminars in preparation for UNCAT ratification were held in Sudan and The Gambia.
· The second CTI technical workshop on legislative drafting of anti-torture laws, convening Francophone African countries was held in Dakar, Senegal.
·        The release of 2 new Implementation Tools on "Non-Refoulement procedures and safeguards" and "Providing rehabilitation of victims of torture and ill-treatment", which compile more than 50 State good practices.
To find out more about CTI's work and latest activities in 2018, you can access the full report here.