Fes seminar reminds that torture prevention is daily work
Last week, on 30-31 October, the CTI held an important cross-regional seminar in Fes, Morocco, on ways to improve the administration of justice and law enforcement practices. The event, jointly hosted by the Governments of Morocco and Indonesia, in partnership with Wilton Park, brought together over 60 participants from Asia, Africa and the Middle East sharing similar legal frameworks and cultural traditions, supported by a number of other States' representatives,* as well as international and regional organisations, national human rights institutions, non-governmental organisations and academics.**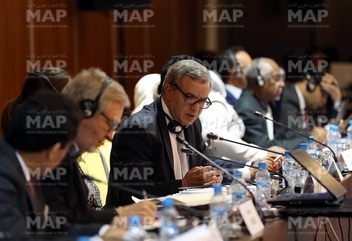 The opening ceremony, attended by around 300 participants, focused attention on international and national efforts to combat torture and other abuse, and was attended by international invitees, alongside Moroccan national and local government officials, human rights organisations and experts, and a number of high-ranking diplomats.
As hosts of the event, H.E. Mr. Mohamed Auajjar, Minister of Justice of Morocco and H.E. Mr. Mustapha Ramid, Minister of State for Human Rights, took the floor to confirm the Kingdom's continuous support for the CTI, as one of the five spearheading States, together with Chile, Denmark, Ghana and Indonesia, and for judicial reforms in Morocco. Minister Auajjar stressed that the "system of justice [in Morocco] is now an open debate without taboo or constraint."
Ambassador Hasan Kleib of Indonesia, co-host of the event, reminded the audience that implementation of the UN Convention against Torture and Other Cruel, Inhuman or Degrading Treatment or Punishment (UNCAT) requires continuous effort in order to "improve legal frameworks, human rights conditions as well as law enforcement standards". The CTI seminar, he said, "is not an event but part of a process." Also present was Mr. Andrew Gilmour, United Nations' Assistant Secretary-General for Human Rights, who thanked the CTI for pushing back against tolerance for torture and encouraged the participants in the roundtable to build on the very good report from the 2015 CTI seminar held in Marrakech in December 2015. 
The seminar discussed and covered a wide range of issues related to the administration of justice and law enforcement practices. Participants highlighted a number of good examples and some key recommendations in preventing torture and other ill-treatment and in professionalising policing and other practices, such as a) the importance of political buy-in at the highest levels to prevent torture, even in the most extreme of circumstances, b) professionalising and strengthening the capacity of law enforcers and medical staff in places of detention, and c) system-wide reforms that carry appropriate checks and balances – such as through monitoring mechanisms – to minimise corruption and the abuse of power.
Also joining the event were the Minister of Justice of Sudan, H.E. Dr. Idris Ibrahim Jameel and the Gambia's Attorney-General and Minister of Justice, H.E. Mr. Abubacarr Marie Tambadou. The Gambia and Sudan are both countries that are considering ratifying UNCAT and the CTI's cross-regional seminar was an important occasion to hear more about the Convention.
Minister of Justice H.E. Mr. Mohamed Auajjar closed the event, by re-emphasising that efforts "to fight torture need to happen on a daily basis".
A report on the event will be issued soon.
The event programme is here.
* Participants shared their experiences from the following countries: Bahrain, Bangladesh, Brunei Darussalam, Burkina Faso, Denmark, Egypt, Fiji, Ghana, The Gambia, Indonesia, Lebanon, Malaysia, Mali, Morocco, Norway, Sierra Leone, Sudan, Togo, United Arab Emirates, United Kingdom of Great Britain and Northern Ireland, and Viet Nam.
** Others participating included the UN Committee against Torture, OHCHR, UNODC, ICRC, OIC Independent Permanent Human Rights Commission (IPHRC), Arab Commission for Human Rights, Conseil national des droits de l'Homme du Maroc (CNDH), Indonesia's National Commission on Human Rights, UK's Independent Police Complaints Commission (IPCC), and the Association for the Prevention of Torture.
The seminar received considerable media attention in Morocco. Please see the following links:
News:
http://www.maroc.ma/en/news/convention-against-torture-initiative-official-highlights-strategic-plans-developed-morocco
http://www.mapexpress.ma/actualite/societe-et-regions/cloture-a-fes-du-symposium-regional-de-linitiative-pour-la-convention-contre-la-torture/
http://m.le360.ma/politique/video-lutte-contre-la-torture-a-fes-lonu-reconnait-les-efforts-du-maroc-140853
http://www.leconomiste.com/article/1019521-lutte-contre-la-torture-le-maroc-confirme-son-engagement
Photos
http://www.mapphoto.ma/en/Human-rights/Symposium-on-convention-against-torture-initiative