A more peaceful Pacific: Ratifying UNCAT on the horizon
At CTI's latest major regional event, participants heard that Pacific Island States are committed to living in peaceful communities and to regional universal ratification and implementation of the UN Convention against Torture and Other Cruel, Inhuman or Degrading Treatment or Punishment (UNCAT).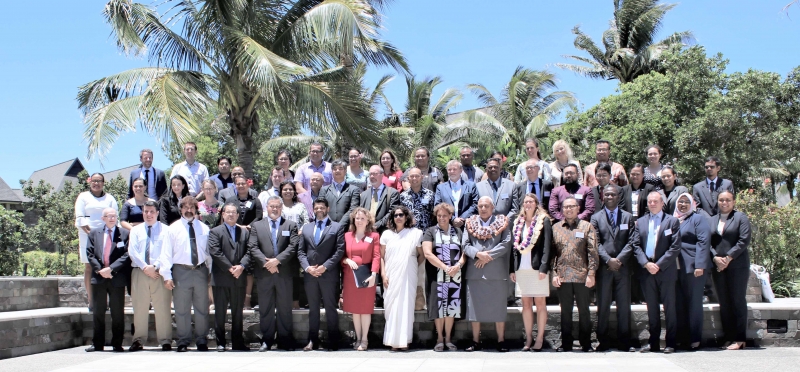 This was the main message of a two and a half day high-level seminar on ratification and implementation of UNCAT in the Pacific, held in Natadola, Fiji, from 6-8 February 2019. The Seminar, opened by the Prime Minister of the Republic of Fiji, Honourable Mr. Josaia V. Bainimarama, brought together Ministers of Justice, Attorneys General and senior civil servants from eleven Pacific Island States, representatives of the diplomatic community as well as regional and international anti-torture experts.
The high-level participation underlined the importance attached by all countries in the region to UNCAT as a Convention that can assist States to strengthen the fair and effective administration of justice and to prevent and respond to violence and abuse. The Seminar highlighted the strong democratic and rule of law traditions of all countries in the region. All have either constitutional or other legislative prohibitions of torture. Important safeguards against torture and ill-treatment exist in national constitutions as well as police and prisons acts. The strong legal frameworks are complemented by independent judiciaries, upholding the rights of persons and excluding evidence obtained by means of torture from court proceedings.
In his Opening Remarks, Honourable Mr. Josaia V. Bainimarama, Prime Minister of Fiji, recalled how these frameworks constitute important building blocks for UNCAT ratification: "The core of UNCAT is to support States in their efforts to curb and prevent torture and other ill-treatment. Here in Fiji, joining on to the treaty was a natural extension of progress we've made on our own in recent years. The law here is clear – the Fijian Constitution explicitly prohibits torture in its Bill of Rights."
At the same time, some legislative and institutional gaps exist throughout the region: notably, so far, only four out of 12 Pacific Small Island States have ratified UNCAT. In most countries, torture is not yet defined or criminalized as a specific offence, a process which can be accelerated through UNCAT ratification. Participants also noted that their countries continue to suffer from incidents of violence, including for instance by law enforcement upon arrest and in custody, or in other forms, such as through poor prison conditions.
UNCAT ratification can assist States to address these challenges. Participants heard about examples from several countries where ratification was the beginning of a journey that helped trigger a process of reform. In Nauru, for instance, the government in 2016 introduced a separate definition and crime of torture into its criminal code after UNCAT ratification in 2012. In Fiji, which ratified UNCAT in 2016, authorities introduced the First Hour Procedure in 2017, which ensures the provision of legal counsel to every suspect at the police station, within one hour of arrest, and the video recording of interviews. This has reportedly already seen a sharp decrease in the number of allegations of brutality being levelled against police officers, and court time spent on assessing such allegations has consequently been reduced also. In the Republic of the Maldives, UNCAT ratification in 2004, and subsequent legal and institutional reforms, meant that the country was better equipped to deal with violence and opened up its prisons to transparent scrutiny. An expert from the Maldives was invited to give a comparative example.
The discussions were marked by a spirit of cooperation and dialogue, and representatives emphasized they would return to capital to progress UNCAT ratification. In his Opening Remarks, Honourable Mr. Josaia V. Bainimarama, stated:
I know that the challenges faced by Fiji in our implementation of UNCAT and our reforms are not unique to us. That is why I urge you all to take a hard look at your own policies, and find that ratifying UNCAT is not just a symbolic gesture – it is a commitment to cultivating a better future for our people." He reminded participants of the region's culture of working together and to "use each other as the regional support network that is needed for bold steps forward. By doing so, we will forge a future together – a future of a more peaceful Pacific.
Honourable Mr. Aiyaz Sayed-Khaiyum, Attorney General and Minister responsible for Justice, Fiji, similarly underlined that Fiji remains "available to provide technical support and assist countries in the region as they embark on their own ratification processes."
At the closing of the event, Dr Alice Edwards, Head of CTI Secretariat, said:
As an initiative founded by States for States we at the Convention Against Torture Initiative (CTI) look to the Pacific region with great optimism: the Seminar showed that all countries in the Pacific are committed to ratifying the Convention, and willing to work together to achieve universal regional ratification of UNCAT. We want to build on this commitment and look forward to working with and assisting States in the region as they progress to ratification and active implementation.
About the Seminar
The Seminar took place from 6-8 February 2019 and was hosted by the Government of Fiji and organized by CTI in partnership with the Universal Rights Group (URG) and the Regional Rights Resource Team of the Pacific Community. It brought together more than 60 participants, including Ministers of Justice and Attorneys General from the Republic of Fiji, Republic of Kiribati, the Federated States of Micronesia, Republic of Palau, the Independent State of Samoa, the Kingdom of Tonga and the Republic of the Marshall Islands, as well as senior experts from Nauru, Papua New Guinea, Solomon Islands and Tuvalu. Experiences were also shared by representatives of Ghana, Chile, Indonesia, the Republic of the Maldives, New Zealand and the United Kingdom. Representatives of the Commonwealth Secretariat, the Pacific Islands Forum Secretariat, the United Nations, as well as the diplomatic community in Fiji also participated.
The Seminar programme is available here.
Prime Minister Bainimarama's welcoming remarks are available here.
Attorney General Sayed-Khaium's keynote intervention is here.
Ambassador and Permanent Representative of Denmark to the United Nations in Geneva, H.E. Morten Jespersen's opening remarks are available here.
For more information, please contact the CTI Secretariat at info@cti2024.org.